In Italy, Yogorino has become a byword for healthy gelato, and is an established part of the Italian lifestyle. Yogorino has become popular throughout Italy with surprising speed since the first Yogorino store opened in Verona in 1993. Continually loved in Italy, the birthplace of gelato, our yogurt gelato has captivated customers throughout the world.
With 200 stores in Italy, Yogorino is currently expanding to 30 countries across the world.

Here in Japan, through Yogorino we are offering a positive and happy lifestyle!


Yogorino, made from
ingredients directly imported from Italy

and fresh low-fat milk, boasts remarkable advantages such as only

about half the calories and a fat content of about one-fifth

compared to ordinary ice-creams. Sweet and rich yet healthy, Yogorino is an ideal gelato that can be eaten by small children, diet-conscious women as well as elderly people.


In order to remain faithful to the original product concept,
ingredients for Yogorino are directly imported from Italy

. Our insistence on using these ingredients is because they are essential in order to achieve the same level of quality as the original Italian product. Yogorino is not like those Italian-style gelato places which spring up here and there, and subsequently disappear. We take pride in Yogorino alone being able to deliver the true value that only comes with the real thing.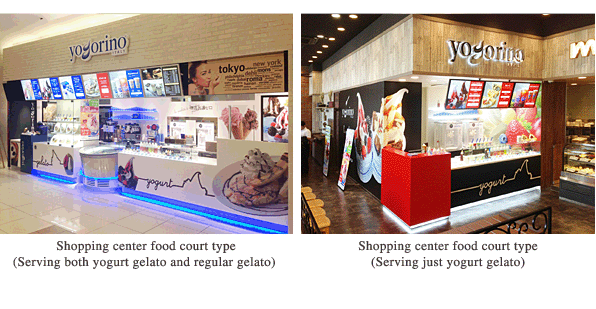 The fashionable, elegant-casual store design shines with Italian sensibilities and really stands out from the crowd. Furthermore,
the main ingredient in the products handled by the stores is a powder that can be stored at room temperature, making it easy to maintain cleanliness without the need for use of gas or oils.

This also reduces the impact on facilities degradation, allowing the healthy and clean image of the store to be easily maintained.


We develop
a variety of gelato packages in-house

based on our track record and data in Italy and the rest of the world. With an ability to develop business formats suited to all sorts of different locations and superior product appeal, we have developed of

low investment and high return packages.

We can make proposals that best suit the needs of customers, such as being able to set up shops from a space of just 6.6 square meters. Moreover, we continue to develop high-quality casual store designs, attractive fittings and uniforms, and appealing visual elements with an awareness of

producing a space that customers will always enjoy.


Yogorino outlets in Japan ensure
stable sales and operating profit even in economic recession

thanks to our high repeat rate. We have started to open outlets in the Middle East and Africa and

accelerated business expansion in Asia.

We hope you take this opportunity to consider becoming a franchisee of Yogorino which offers you limitless possibilities.